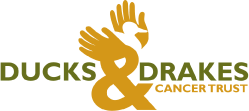 Ducks & Drakes - Sponsored Charity
Sponsored Charity - Ducks & Drakes Cancer Trust
WNA Group are pleased to announce Ducks & Drakes as the sponsored charity for all companies within the Group.
Ducks & Drakes was formed in 2012 to help raise awareness for Bowel Cancer in young people aged 18-30, after the death of Andrew Drake aged just 30. Please read his story here http://www.ducksdrakescancertrust.org.uk/feeds/news/andrew-drakes-story.aspx  
Families of cancer patients are also given provision of specialist equipment and financial aid. Specialist Nurses are also funded in Dorset County Hospital, specifically the Colorectal Department.
We have a weekly collection in the office for "Dress Down Friday" and for events like Halloween.
Please visit the Ducks & Drakes website on http://www.ducksdrakescancertrust.org.uk/ 
Previous
Next